Okino Customer Case Studies
For more than 2 decades Okino has defined the concept and set the standards for the methods of re-purposing 3D CAD data so that complex CAD assemblies can be cleanly and ruggedly converted into all professional downstream 3D programs and applications. Okino software was expressly written to act like a 'stepping stone' from super-massive source datasets to lesser destination programs which simply cannot handle such large datasets.

EPIC Software

Very Large Scene Engineering Visualizations of a CB&I Oil Refinery

Tesco Corporation

Animations, PDF manuals & brochures for oil well drilling




You can also find a vast collection of online customer submitted imagery for which the MCAD & DCC/Animation data was converted through Okino software.



The majority of the following selective case studies are from customers who are moving data from the ProE/Creo solid modeling package into other 3D packages via Okino's PolyTrans|CAD software, or into Okino's NuGraf software for texturing and rendering. ProE/Creo customers dominate these case studies because they were culled from a list of user-submitted data for a ProE/Creo magazine article written by Robert Lansdale of Okino. In reality, Okino's customers use many more CAD packages than just ProE/Creo, with popular source data packages being SolidWorks, UG NX, Autodesk Inventor, Solid Edge, Microstation, CATIA, AutoCAD, Revit, Navisworks, Rhino-3D and many others.



CraneDigital. John B. Crane. CAD (UG NX via IGES) to LightWave Translations & Optimizations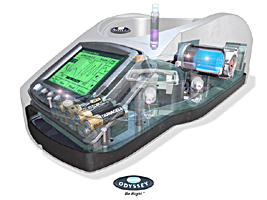 Click to view larger image

"My name is John B. Crane and I run CraneDigital, a 3D illustration and animation studio in Fort Collins, Colorado. I specialize in 3D scientific/technical illustration and animation and have been working in 3D since 1995 when I founded Sandhill Studios in Santa Fe, New Mexico. I come from a long line of engineers in my family, but because my education and training are in art I approach the discipline of engineering as the "fine art" it deserves to be portrayed as. I've had the good fortune to learn many 3D workstation applications and have settled on two primaries: LightWave and 3ds Max. I produce multi-platform, multi-use deliverables for all media.

I originally discovered Okino's PolyTrans|CAD during a project over a decade ago. A marketing firm contacted me with an engineering client who had just developed a new tabletop spectrometer. The story was familiar: the engineers had spent 4 years developing and designing this new tool (in UG NX) and on the virtual eve of production release, the one-offs and prototypes were of little to no use to the marketing people. Their precious new machine lay trapped in the technically intimidating world of UG NX Open GL Previews. They needed pre-sales tools and a way of explaining how their device worked across a variety of deliverables.

After a few exploratory calls I learned of PolyTrans|CAD and wrote for more information. After the initial purchase of PolyTrans with the IGES import module, Robert Lansdale worked closely with me developing a "custom" solution for the specific task that lie ahead. One of the main challenges with this project was defining polygonal meshes from the UG/IGES trim curves. Control over tessellation settings was important as was smoothing and control over the normals, but more importantly I needed control over specifically grouped surfaces. In other cases, an IGES export can generate hopelessly confusing meshes with millions of individual polygons the designer would then need to (impossibly) pick through and stitch back together. The goal was to achieve a high-fidelity model that could still be rendered and animated in LightWave. PolyTrans was indispensable. After trying a direct IGES import through two other leading applications, PolyTrans|CAD produced the highest-quality results with the most control over surfacing, smoothness, and tessellation. Without PolyTrans I would not have been able to meet the tight timeline.

Since this initial project I've used PolyTrans|CAD for countless projects, moving seamlessly between 3ds Max, LightWave and Softimage. PolyTrans|CAD handles ProE/Creo files extremely well, as evidenced by the project shown for Waterpik. Why move between applications? Sometimes it's as simple as a slightly different look a client is after. Sometimes it's more complicated, like creating a motion, object or affect more easily in one application than another. Sometimes a client will already have Max files and want that to be the starting point. With PolyTrans|CAD, moving between different worlds is a reliable, "promisable" task. Without it my life would be far more difficult.

For more information about CraneDigital, please visit www.cranedigital.com.

- John B. Crane
3D Illustration, Animation and Design for all Media

Brooks Stevens Design Assoc. David H. Roland. ProE/Creo Conversions
"Brooks Stevens Design is a multi-disciplinary product development firm committed to creating great commercial products for our clients and ourselves. Our capabilities and process include usability research, industrial design, mechanical engineering, prototyping, project management, vendor liason, and interactive design.

ProE/Creo is the primary engineering modeling and documentation package used at Brooks Stevens. Although it is used in some cases as a conceptual industrial design tool, it's main application is documenting our designs through mechanical engineering and part/assembly development to final production.

All along the process, from initial concept development through final engineering, we need to develop images that communicate a designs' status and configuration to clients, vendors, researchers, and ourselves. It's not enough to create shaded isometric views. We find it extremely valuable, when possible, to create images that look REAL and convey the detail, accuracy, and excitement that we bring to products in our design process. At times, we also create images for sales and marketing purposes; images of the designs which must look very realistic (even photographic), but have not yet been produced. These are the reasons NuGraf has been a valuable asset to us. Yes, there are other packages that produce some great images, but nothing I've seen works as well with ProE/Creo in terms of simplicity, consistency, and speed to get to those realistic images we are looking for.

We've been using Okino's NuGraf for about 3 years now, ProE/Creo for more than 10. NuGraf proved to be an excellent choice for generating great images of our designs created in ProE/Creo. It proved to be so easy to use we lost the manual early on and didn't even bother to find it. Go figure. We have other very robust rendering packages in house, but NuGraf proves to be the fastest and easiest renderer to use in conjunction with ProE/Creo. I can't say enough about how much faster it is. As an example, we did a rendering test about 2 years ago, comparing NuGraf with a renderer in one of our surface packages. The difference was 4 hours vs. 15 minutes for NuGraf - all variables being kept as close as possible. That's a big difference when you have 24 hours to crank out a full presentation for a client."
- David H. Roland, Design Manager





Click to view larger images


Credits: Middle two images, Flow International Corporation (Kent, WA) and Brooks Stevens Design (Grafton, WI), David Roland (designer) and Scott Klos (engineer). Image of Flow International's "Waterjet Machining Center (WMC)" which can be viewed on their WEB site. Right most image: Briggs & Stratton ELS500 Engine cover; Design by Brooks Stevens Design.

Kral GMBH (Austria). Andreja Balon Kral. ProE/Creo to Maya Translations & Optimizations
"We bought PolyTrans to convert ProE/Creo data into Autodesk Maya.

We have been making computer animations for almost 10 years. We began with Alias and now we use Autodesk Maya. We have a customer Bonardier-ROTAX GmbH in Austria, who are making motor engines for Ski-Doo, Sea-Doo, ATV, Light Airplanes, Kart and Motorcycles (Aprilia and BMW). They developed a completely new engine generation named 4-TEC. They have constructed it in ProE/Creo. For marketing presentation of this new engine they wanted to show their custumers the "high-tec" of this engine.

We exported the engine data from ProE/Creo via large IGES files. However, we had a problem: the IGES data was really really big! Maya could read small IGES parts but it could not import big parts; Maya just hung up. So we performed the conversion with PolyTrans|CAD. It worked very well and fast. In meantime we also use VRML data format, epecially for parts, that are not so important. The Bombardier-ROTAX company uses VRML data for their preview discussions. Thanks to the PolyTrans VRML importer we are able to read this data, too and they are much smaller."
- Andreja Balon Kral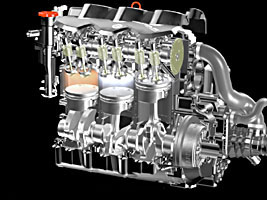 Click to view larger image

Industrial 3D. Beau Brown. SolidWorks (CAD) to 3ds Max Translations & Optimizations
"Beau Brown of "Industrial 3D" (industrial design visualization) was provided a large 3D dataset of an oil drilling rig created in SolidWorks and wanted to render it in 3ds Max. Beau used Okino's SolidWorks to 3ds Max conversion pipeline to perform this job quickly and with little user involvement. He is quoted as saying "The SolidWorks model was huge but it only took PolyTrans-for-3dsMax a few minutes to open and convert. It turned out great and worked beautifully."

The final rendering consisted of 75% data from SolidWorks and 25% created in 3ds Max. The 7500x7500 pixel image was used in "Oil and Gas Journal". The models and technical instructions were provided by Rowan Companies, Inc."
- Beau Brown
Custom 3D Modeling & 3D Graphics.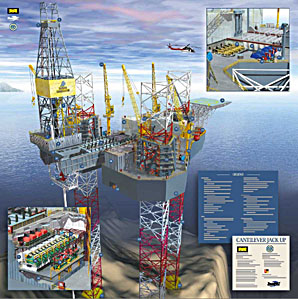 Click to view larger image


Credits: Copyright Oil & Gas Journal, PennWell Publishing and by Beau Brown, Industrial 3D. Used by permission. Models and technical instruction provided by Rowan Companies, Inc.

Thomas-Bradley. Will Coats. ProE/Creo to 3ds Max Translations & Optimizations
"Thomas-Bradley Illustration & Design is a full service illustration and design studio specializing in photoreal illustration and animation, usually of the technical nature. The central Illinois based firm began in the mid '80's creating hand painted airbrush illustrations. It was decided in 1988 to explore the potential of computers as a new creative tool, the rest, as they say, is history.

About a year ago, staff artist, Will Coats, began using PolyTrans in their production pipeline to import and optimize ProE/Creo geometry data over to 3ds Max for final rendering and animation. The resulting images speak for themselves."
- Will Coats, Staff Artist
Thomas-Bradley Illustration & Design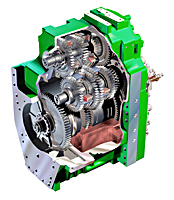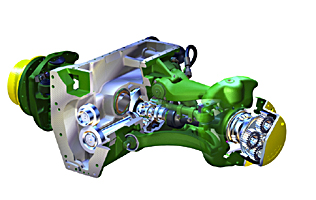 Click to view larger images

Genexis Design, Inc. ProE/Creo Conversions
"We started using Okino's NuGraf software from its inception. At that time we researched available rendering software packages and found out that only NuGraf can handle conversion and consecutive rendering with all the flexibility we needed. Even after PTC introduced Pro/Photorenderer we continued using PolyTrans|CAD and NuGraf for complex scenes that would put too much presure on resources if a CAD package would be used for rendering. Also we have found a tremendous support from Okino on NuGraf's side with any problems we have faced as, novice users of a rendering software."
- The Design Team of Genexis Design, Inc.








Click to view larger images

Reyer Corp. Don Lynch. SDRC & LightWave Conversions
"Over the past 13 years Reyer Corporation has provided engineering design services for private industry as well as US government laboratories, such as Naval Research Lab, National Institute of Standards and Technology and NASA Goddard Space Flight Center.

We have focused mainly on scientific instruments and use 3D CAD modeling on a daily basis. Just recently we were contracted to do a really exciting project. The US government wanted to explore the possibility of restoring an old hotel while adding a new building to it. Our job was to recreate the hotel and lobby with its fantastic columns and provide a walk-through.

We obtained old black and white photos of the hotel façade and lobby from the local historical society and worked under the direction of an architect for the new building concept. Everything, except for the Mercedes, was modeled in SDRC's Master Series 3D CAD software and LightWave. The final model was exported to Okino's NuGraf. NuGraf is a package we have been using for several years and for which Okino has provided personal support and updates to us directly. We imported the data via IGES and LightWave objects, and ended up with a 950,000 polygon count model of the interior and 1,200,000 polygon count of the exterior scene. NuGraf rendered the images in a short time.

The models use about 100 texture maps, 30 light sources for the interior and 6 lights for the exterior.
- Don Lynch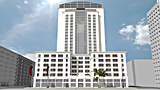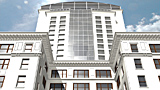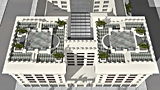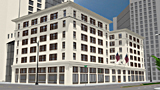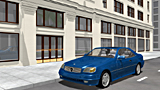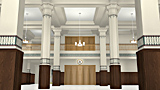 Click to view larger images

IDE, Inc. ProE/Creo Conversions
"IDE is a multi-disciplined product design and development firm serving technology based companies worldwide. IDE provides a unique blend of industrial design, mechanical design and engineering, and unmatched prototyping skills to create products that look great, are easy to use, and cost effective to manufacture. Though many of our designs have won international awards, our focus is to provide our customers with a solution that meets or exceeds their project goals. Ide provides its clients an experienced team of industrial designers, mechanical design engineers, and a fully equipped rapid prototyping facility all under one roof.

The production tools we typically use are:
ProE/Creo solids modeling
Rhino-3D 3D NURBS surfacing modeler
Okino's conversion software
SolidWorks solids modeler
The IDE production pipeline: IDE use a combination of solid modeling software from PTC (ProE/Creo) and Robert McNeel's Associates NURBS surfacing software, Rhino-3D. Okino's NuGraf is used for final presentation imagery. If the final surfaces are very complex then it is exported as an IGES file for refinement in Rhino. In Rhino the surfaces are interactively tessellated to insure design intent and high image quality in the final rendered images. Product graphics are applied in NuGraf or using Adobe Photoshop. NuGraf is used for visualization purposes in presentations and often supports 2D image manipulation tools in the creative process.
- IDE Inc.
Click to view larger images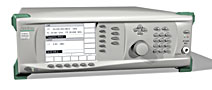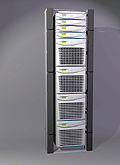 Image descriptions, from left to right, top to bottom:
Silicon Film - A digital film cartridge that allows some existing, non-digital, SLR cameras to take pure digital images. It is a modular system comprised of 3 components. Created concurrently in both Rhinoceros and ProE/Creo, then rendered in NuGraf for presentation to the client before display models, color studies and prototypes were developed. The final Rendering was done in NRS with all product graphics being projected onto the polygon meshes using NuGraf.


Colorado Micro Display - IDE developed a prototype for technology presentation. A ProE/Creo solid model was exported as an IGES file. The IGES file was interactively tessellated in Rhino. A mesh was imported from Poser. The head was scaled to fit the ProE/Creo Solid model. The image was rendered in NuGraf.


Anritsu Synthesized CW Generator MG3690A - An RF and Microwave signal synthesizer. The exterior surfaces were all modeled in Rhino. These surfaces were rendered in NuGraf. IDE used a combination of Adobe Illustrator and Rhino to develop the interface and bezel graphics/markings. When the final concept was selected the surfaces were exported from Rhino and then imported into ProE/Creo for mechanical design. The final Rendering was done in NuGraf with only a few problematic product graphics being applied in Adobe Photoshop, otherwise all graphics were projected onto the polygon meshes using NuGraf.


Creative Labs Nomad Jukebox - A digital music jukebox holding up to 150 CDs of music. Created concurrently in both fRhinoceros and ProE/Creo, then rendered in NuGraf for presentation to the client before display models, color studies and prototypes were developed. The final Rendering was done in NuGraf with all product graphics being projected onto the polygon meshes using NuGraf.


"Okino Camera" - The camera model was created by Deam Amir Depay (of IDE Inc.) using AutoCAD's solid modeling capabilities. The turn-around time from import to final rendering was about 40mins, most of which was consumed in deciding what materials and what colors to assign to the object.


PDA Concept Rendering - The PDA model was created by Deam Amir Depay (of IDE Inc.) using AutoCAD's solid modeling capabilities. It was then exported to NuGraf as an ACIS SAT model and triangulated from a solid into polygons using the ACIS toolkit contained within the NuGraf software. An interesting variety of textures, bump maps and lighting give an overall soft look to this image.


Ziatech Computer Server - The Ziatech server bezels were created using two programs. The Industrial designed exterior surfaces were created using the NURBS surface modeler Rhino and the mechanical design was created with ProE/Creo. The rendering was created with Okino's NuGraf. The image uses 8 different texture maps and 3 light sources.

Guidant Corporation. Robbie Halvorson. ProE/Creo to Maya & Studio Translations & Optimizations
"I am a Designer that have used Okino's NuGraf to translate models from ProE/Creo to Maya and Alias Studio for rendering. I have done this for about 4 years with great results. I can quickly bring multiple parts into Maya (now my main animation and rendering tool) using Okino's softwarre. In fact one of these translations lead to us being nominated for a ProE/Creo award in medical products.

My reasons for exporting out of ProE/Creo were that this device had parts that showed refraction and I also needed better control of surface detail. Alias Studio has ray tracing and finer control of things like specular highlights and texture mapping. I'd say the key points for moving out of ProE/Creo are: better control of shaders, lights, cameras, etc. Raytracing for transparent parts. Simpler user interfaces.

ProE/Creo does I fine job of handling surface shading and creating basic animation for use in an engineering environment but for higher quality, hyper-realistic presentations, the parts need to be exported to a true rendering and/or animation software. It's like the difference between carpenters tools and watchmakers tools."
- Robbie Halvorson. Senior Designer, Animator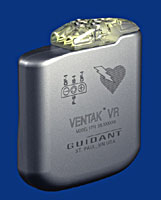 Click to view larger image

Motorola PCS. Tim Sutherland. ProE/Creo Conversions
"I work in the Industrial Design department at Motorola. My role here is to obtain a preliminary set of internal components from the engineering development group and provide all of the external surfaces of the design. I return a set of external surfaces and thin-walled parts to the engineering group and they add all of the internal geometry (snaps, bosses, etc.). What's shown here is the final design after a year and a half of development.

The model was created in ProE/Creo then imported into Okino's NuGraf software, via IGES, for final rendering. The clean conversion of trimmed NURBS (in IGES) to polygon data via Okino's IGES importer makes it easy to render large production files, complete with all of the internal detail, for otherwise raw NURBS would be far too heavy.

The graphics are mapped on with a technique I use that combines Adobe Illustrator and Photoshop."
- Tim Sutherland, Product Developer, CXD Engineering
Motorola PCS Product Development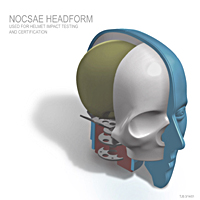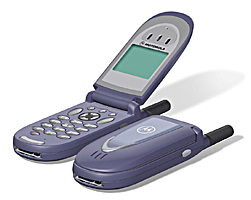 Click to view larger images
---
3ds Max is a registered trademark of Autodesk. LightWave is a registered trademark of Newtek, Inc. Maya is a registered trademark of Autodesk Inc. ProE and Creo are registered trademarks of PTC. All other brand names, product names, or trademarks belong to their respective holders.

All images are copyright by the company named in the title where the images are shown, unless otherwise explicitly noted.

Certain names, logos, designs, titles, words or phrases on any page accessible through this WEB server may constitute trademarks, servicemarks, or tradenames of Okino Computer Graphics, Inc. or other entities which may be registered in certain jurisdictions. NuGraf® and PolyTrans® are registered trademarks of Okino Computer Graphics, Inc.