The PolyTrans|CAD+DCC Translation System is a world-wide industry standard for mission and
production critical 3D CAD + VR/AR + DCC/Animation model translation, optimization, reduction and viewing.




Okino software & related 3D conversion solutions are used throughout the world by many tens of thousands of 3D professionals in mission & production critical environments, backed by respectable personal support directly from our core development team. Our mathematically precise software converts from a plethora of industry standard CAD & DCC/Animation 3D file formats (commonly SolidWorks, ProE/Creo, UG NX, Navisworks, Revit, STEP, IGES) and into all key downstream 3D packages and file formats.
| | |
| --- | --- |
| I want to convert from | to |
| I want to learn how to convert | |
Okino's PolyTrans & NuGraf software are (ideally) tailored to the CAD & DCC conversion requirements of each of our new or existing users. Hence, before you delve into the Okino WEB site, please take a moment to follow step (1) of our software evaluation process. One of the most important considerations in a flawless conversion process is the choice of the source 3D CAD file format as best explained herein.
CAD Conversions, Optimizations and Data Re-purposing with PolyTrans|CAD

CAD conversion has always been a key aspect of Okino software development. Our forte is in the conversion (and optional reduction/optimization) of everything from small to huge & complex 3D CAD files to all major non-CAD down-stream file formats and 3D packages. Our converters simply work, work very well, and do not bottleneck on the largest of datasets. The Okino CAD modules cover all the most popular and demanded formats, and have been designed to handle the largest of large assemblies. The CAD modules are always kept entirely up to date.

In the personal and hands-on manner we work with each customer, please send a quick email to sales@okino.com explaining your desired source to destination conversion path and we'll give you a proper overview of how to do it properly.
Highly Refined Conversions Between all Major Animation/DCC/Design Packages

Okino Computer Graphics can best be understood as two distinct sub-companies: one which specializes in the CAD market, CAD products and CAD users, and one which specializes in the animation/DCC (Design-Content-Creation) markets and users. We excel at providing the industry standard converters for these distinct, yet often overlapping, markets.

Okino is particularly well known in the DCC market as the true pioneer and major provider of data conversion pipelines that tightly connects all key 3D animation packages and DCC file formats. PolyTrans is in use by all major production companies who regularly use 3ds Max, Maya, Cinema-4D, LightWave, Blender, Unity & Unreal Engine, and related common file formats such as Collada, DirectX, DWF-3D, FBX, NGRAIN, OpenFlight, SketchUp, U3D (3D PDF), VRML and many others.

Nevertheless, our main and core sales are for the conversion of SolidWorks, ProE/Creo, STEP/IGES, Siemens UG NX, Inventor/AutoCAD/Revit/Navisworks (and many lesser MCAD file formats) into the industry's main DCC/Animation/Authoring/VR-AR programs, regardless of file size or data complexity, as best exemplified by this Siemens UG NX MCAD model conversion and rendering by Verdun Chagnon: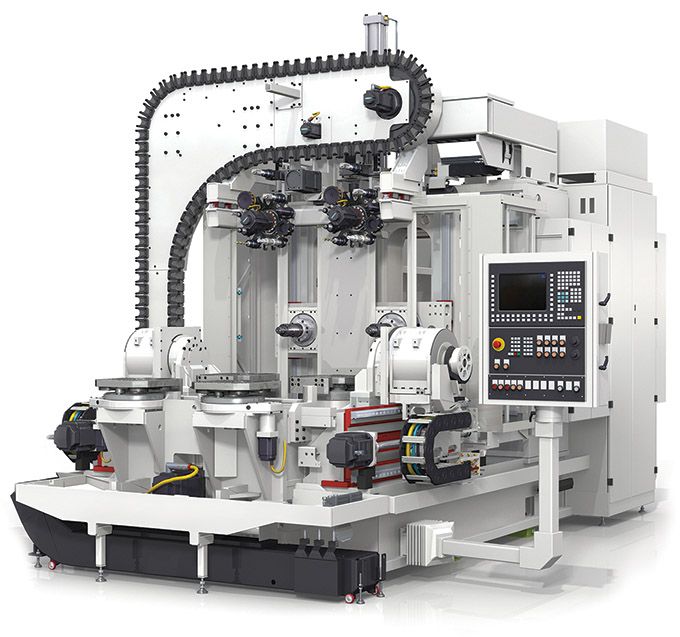 SPECHT® 500 DUO+ (CNC) by FFG/MAG IAS GmbH. © Verdun Chagnon at Linea Design, LLC.
Main PolyTrans|CAD+DCC Information Pages

| | | |
| --- | --- | --- |
| | A Summary of All Main Features & Solutions | A succinct, one page in-depth overview of PolyTrans and its elder brother NuGraf. |
| | Supported File Formats | The all important list of supported file formats |
| | Executive Overview | An executive overview of PolyTrans describing its internal pipelines and its "neutral bridge" architecture (with diagrams) |
| | Product Brochures | Okino PolyTrans, NuGraf & NuGraf Toolkit product brochures, and our monthly full page magazine adverts |
| | Basic Feature Set | The basic feature set of PolyTrans, including screen snapshots |
| | Animation Conversion | An overview of the pioneering work of Okino in cross-program animation conversion |
| | Skeleton/Skinning Conversion | A general overview of the skeleton and mesh skinning (deformation by bones) conversion provided by PolyTrans and its various converters - more relevant & popular in prior decades |
| | "Render Ready" Translations | PolyTrans uses Okino's rendering technology to perform Load & Go, "Render Ready" file format conversions, as described in this section |
| | Supported Platforms | Supported Microsoft Windows platforms. The Macintosh is supported very well using a Windows emulator (Parallels or VMWare) |

Top Reasons for Using PolyTrans|CAD+DCC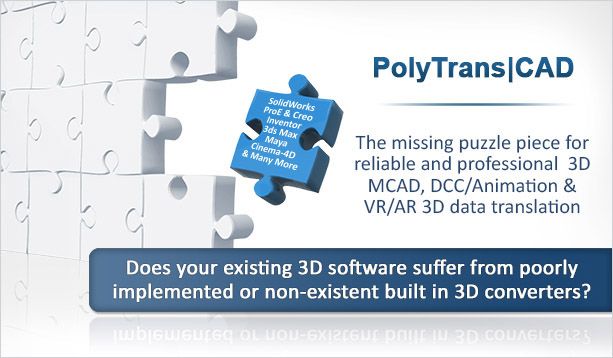 Excellent and complete support for the most popular 3D MCAD/CAD and DCC/Animation file formats, including the most technically accurate and robust bi-directional conversion system between 3ds Max and Maya.


Okino is an engineering R&D company with our first and primary focus on the conversion of huge 3D files. The software is best understood as a "stepping stone", allowing very large source files to be imported then whittled down such that lesser destination programs can import the final optimized dataset. This is one of the most important aspects of Okino software, but little known to uninitiated users. There is no other known similar software on the market that can perform such "stepping stone" conversions, as Okino software is well known for providing.

Some real examples of such massive conversions can be viewed online: here (BP Clair Ridge oil & gas platform installations), here (BP Clair Ridge oil & gas platform construction) and here (CB&I oil refinery).

PolyTrans is our lifeblood. We develop, maintain, (continually) tweak and support it around the clock. Data translation is a very critical business for which Okino's professional production customers demand perfect conversions. The software incorporates hundreds of man years of development and over 3 decades of customer usage, testing and refinement which has made PolyTrans the main conversion system used throughout the 3D software industry.


Okino does not use reverse engineered CAD modules as is done by others, but rather licenses, utilizes and/or accesses the industry standard CAD geometry engines from Autodesk, Dassault Systemes (CATIA), PTC (Pro/E & Creo), Solid Edge, SolidWorks, Siemens (JT Open toolkit) and others. This is a little understood and/or easily overlooked aspect of those purchasing conversion software. The next time you look at other programs, ask their developers where they license their reverse engineered CAD modules (most such companies license their conversion technology from France, Russia or India, yet market it as their own).


Okino pioneered the 3D data cross-conversion industry, particularly its robust support for all major crack-free CAD formats, bidirectional animation conversion, skinning conversion and the first to bring "Load & Render" conversions to market, among a long list of interesting innovations.


PolyTrans has the most conversion options bar none. A few examples: 1, 2, 3, 4, 5, 6, 7, 8, 9, 10, 11. These options reflect the depth, complexity and completeness of our converter modules. We spend years to decades writing each converter, not weeks.


Batch conversion of 3D file formats as well as all supported 2D bitmap file formats, including scene optimization functions during batching (reduction, optimization, scene scaling, etc).


Personalized & fast turn around on technical support problems, with customer driven product development. All your questions will be answered almost immediately by our senior developers, or most often our CEO who has 3 decades of 3D graphics experience.


Our customers are often quoted as saying "PolyTrans is an excellent product" and "It really works". Consider the fact that PolyTrans is in use continually around the world by almost all 3d users and companies, and hence the software is extremely well tested and robust.


Developed by some of the most experienced Okino CAD and animation developers where quality, robustness and completeness has set apart our converters from all others. We know data translation intimately, from the very bit-level of each file format up to the top-level politics, and the common day to day usage patterns of most of our customers.
The Okino User Base

Okino's PolyTrans and NuGraf software have a very extensive, world-wide user base. If you have never heard of Okino, or used our software, then you may ask: what has made Okino software so popular over the years? We feel it comes down to any number of factors:

We personally guarantee the robustness our conversion software. That's simply something you never hear these days. How can we do this? Because our software simply works. Statistics apply to the robustness of Okino software: it is in use by so many people, for so long, that each year the odds of errors occuring in specific modules reduces down to zero. Even if errors are encountered, we will often have them fixed and returned to customers within a day or less on average.


We have sold our software to so many companies that we have become knowlegable in all of the most common answers and problems dealing with 3D data translation. Our customers can 'tap' our knowledgebase simply by sending a quick email to support@okino.com at any time.


We provide quick support for our software direct from the main management team and senior developers, and not from online forums or untrained front-line tech support people. You will always get a very informed answer on your first or second email to Okino.


We typically allocate (at least) several years to the development, evolution and refinement of each converter until they closely mimic the source/destination 3D program. Most of our converters have been in continual development and refinement for many decades. Special conversion pipelines such as PolyTrans-for-Cinema-4D, PolyTrans-for-3dsMax, PolyTrans-for-Maya and DWF-3D (among others) have had dedicated developers working on them every day for the last decade.


We provide free support and a very liberal upgrade/maintenance policy. Most of the software industry provides 30 days free support and upgrades, then expensive maintenaince plans or per-minute phone support -- not at Okino.


We are well known for dealing one-on-one with each and every customer. We don't walk out the door at 5pm. A day does not go by when our customers are surprised to get instant responses from us no matter what time zone they are in. Whether you are in the USA, Germany, Austria, Sweden, Australia or Japan, you'll get real time responses from the same people at Okino (upwards of 16 to 18 hours each day).
---
Certain names, logos, designs, titles, words or phrases on any page accessible through this WEB server may constitute trademarks, servicemarks, or tradenames of Okino Computer Graphics, Inc. or other entities which may be registered in certain jurisdictions. Please activate this link to view a list of trademarks, servicemarks, attributions and other legal information. NuGraf ® and PolyTrans ® are registered trademarks of Okino Computer Graphics, Inc.